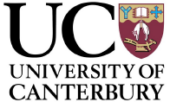 University of Canterbury (UC)
The University of Canterbury is New Zealand's second oldest university, with over 140 years' experience in delivering world-class qualifications. UC is located on the beautiful Ilam campus, offering inspiration and endless activities for UC students.
• UC is ranked in the top one per cent of universities worldwide (QS World Rankings 2017)
• Multi-disciplinary university offers over 2,500 courses, 100 different programmes across five colleges
• Internationally recognised and accredited degrees
• Civil and Structural Engineering ranked in the Top 1% in the world (QS World Rankings 2017)
• Located on one of the largest campuses in New Zealand for land size-it is a residential campus with over 2,000 students living in the UC Halls of Residence
• UC graduates are ready for the world through UC Careers and internship opportunities.